Tree Lopping Services in Lake Forest, CA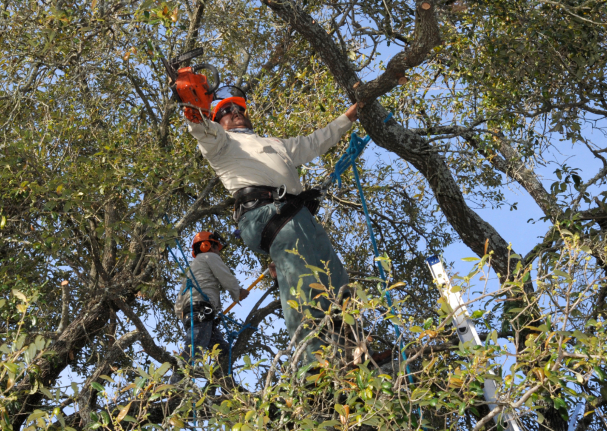 In Lake Forest, there is only one tree service company people truly depend on: Lake Forest Tree Care. That may sound like hollow praise at first, but we back our claim up with tree care that is second to none.
And when it comes to tree lopping, anyone who's called us knows that we're the undisputed experts.
Give us a call at  (949) 539-0051 to learn more about tree lopping in Lake Forest, CA.
The ABCs of Tree Lopping
For those who don't know, tree lopping is the process of removing large branches from a tree. This may be done to reduce the size or make the tree's surrounding area safer to occupy.
It's a common practice that helps to keep trees healthy and looking their best.
There are a few reasons why you might need to have tree lopping done. Maybe there's a branch that's hanging precariously over your house and you're worried it might fall and cause damage. Or maybe the tree is just too big for its location and needs to be reduced in size.
Whatever the reason, you can trust that the team at Lake Forest Tree Care will get the job done quickly, efficiently, and most importantly, safely.
The Dangers of DIY Tree Lopping
We strongly advise against trying to do tree lopping yourself. It may seem like a simple enough task, but it's actually quite dangerous. Not to mention, if done incorrectly, it can irreparably damage the tree.
Tree lopping requires proper training with both equipment and softscape. With the wrong tools or techniques, you can easily cause harm to yourself or others.
Leave it to the professionals at Lake Forest Tree Care. We have the experience and the equipment to get the job done right.
What Is Our Process?
The first step is always a consultation. We'll come to your property, assess the tree, and determine the best course of action.
From there, we'll develop a plan and give you a free quote. Once you've given us the go-ahead, we'll get to work.
Our team will arrive on time and ready to work. We'll take all the necessary precautions to ensure your property is protected from any debris.
Once we're finished, we'll clean up any mess we've made and leave your property looking as good as new.
Tree Lopping Formative And Remedial
Although tree lopping is often thought of as a way to reduce the size of a tree, it can actually be used for both formative and remedial purposes.
Formative tree lopping is done on young trees to encourage growth in a certain direction. This is often done to ensure the tree doesn't grow too close to power lines or other structures.
Remedial tree lopping is done on older trees to remove dead or diseased branches. This helps to keep the tree healthy and looking its best.
Lake Forest Tree Care has experience with both formative and remedial tree lopping. We can help you determine the best course of action for your tree.
Call Us Today
Don't wait until it's too late. If you have a tree that needs to be lopped, call us today and we'll send a team out as soon as possible.
We understand that trees are an important part of your property and we'll treat them with the care and respect they deserve.
Lake Forest Tree Care is the only tree service company you need to know about. Call us today at (949) 539-0051 for all your tree lopping needs. We also offers other tree services including tree cutting, tree removal, tree pruning, stump removal, tree doctor, and many more.