Tree Chipper Services in Lake Forest, CA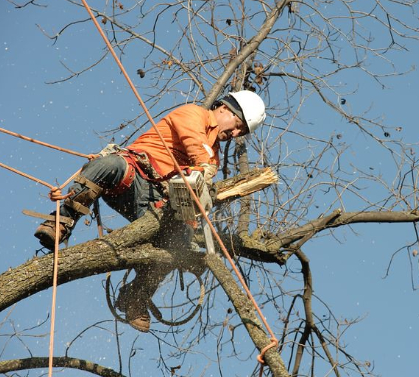 Tree chipping services are a necessary part of our landscaping in Lake Forest, California. It is important to maintain the health and beauty of your property by keeping it free from unsightly fallen branches, twigs, leaves, and other yard debris. Your time is valuable so let us take care of this for you! With a tree chipping service, we can remove all unwanted material from your lawn quickly and efficiently. You will find that prices vary, depending on the size of the job but most jobs can be completed within an hour or two after arriving at your home.
To get started, call (949) 539-0051 today to get free estimates with one of our professionals.
About Lake Forest Tree Care
Lake Forest Tree Care is a company that provides tree chipping services in Lake Forest. We specialize in providing our customers with prompt, professional service. Our team knows the best way to remove your trees so they don't damage any of your property, and we can chip up all of the branches for you as well. We offer a variety of services to help with all types of trees, from trimming and shaping them up to getting rid of any fallen branches you don't want to clutter your yard anymore. We have competitive rates, quick response times, and are always on call to answer any questions about what services we provide. If you're interested in hiring us for tree chipping or any other type of service, then give us a call today.
Benefits of Tree Chipping Services
Tree chipping services are beneficial for many reasons. The most obvious benefit is that it removes the need for you to chip up fallen branches, twigs, and leaves on your own. This can be hard work if there's a lot of material because these items weigh quite a bit by themselves, and they take up lots of space when piled together, especially in wooded areas or other remote locations. You also won't have to worry about damaging any plants with your chips as we will do this all for you! We use proper safety equipment and tools while working so your property stays intact at all times during our service visit.
Another reason is tree chipping services help keep debris from cluttering your yard after a storm or other natural disaster. These piles of branches can be so annoying to clean up and they don't even look very nice either! It's much easier for us to dispose of it all in one trip than it is for you, the homeowner, who may have a hard time transporting large amounts on your own.
It also helps control insects that might live in these fallen tree branches because we'll remove them from your property before being able to do any damage to their population growth rate. Not only will you not have bugs crawling around, but if left unattended, those would eventually end up infesting nearby trees, harming their health which means fewer chances of healthy fruit production come harvest season.
Does Tree Chipping Need to be Done by Experts?
Yes, tree chipping should be done by experts. While a homeowner can do this chore themselves, many things could go wrong and cause damage to property or other parts of the tree. The most common issue with amateur tree chips is when they use their saws incorrectly,  it ends up ripping bark off the trunk instead of cutting through branches as you want them to. All our staff members have been trained in how to properly cut down trees so we don't harm nearby plants, structures, or humans as well.
Is Tree Chipping Expensive?
This depends on the size of your job. This can vary depending on how much material there is to dispose of and how large it all is. We have competitive rates that are affordable and we're always happy to provide free estimates, so you know in advance how much this service is going to cost. Give us a call at (949) 539-0051 if you are interested in hiring us.
Hire Lake Forest Tree Care Now
Don't wait – call us today at (949) 539-0051 now or message us through the contact form on this page to get a free estimate with our professionals. Lake Forest Tree Care is the best company for tree care, so don't hesitate and contact us as soon as possible if you want to ask any questions or schedule an appointment. Our certified arborists are available to provide expert advice about tree services and let you know which one is the best option for your needs.